SATOL S2 – Hygienic Hard Surface Cleaner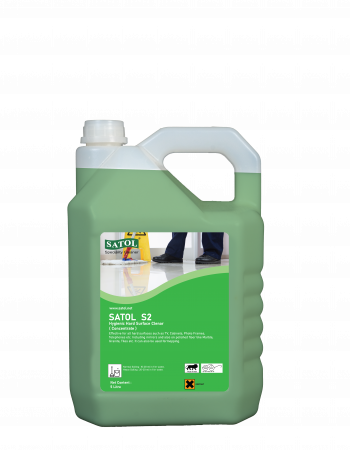 SATOL S2 – Hygienic Hard Surface Cleaner
SATOL HARD SURFACE CLEANER is a concentrated general purpose
cleaner cum sanitizer it doesn't contains any abrasive or bleaches
and is ideal for the quick & gentle cleaning of all hard surfaces.
Appearance        : Liquid
Colour                   : Green
Specific Gravity   : 0.99 ± 0.1 g/cm3
                                  10±0.5 (in 1% solution)
pH Value                :  11±0.5 (in 100% solution)
Prepare 0.3% solution from the concentrate in order to get correct working solution.
Normal : 3 ml in 1 Litre of work solution.
Heavy : 10 ml in 1 Litre of work solution.
Used for removing greasiness from the floor.
Ensure a neat and clean floor.
modern disinfectant liquid with Fresh fragrance.
Better than standard phenyls.
Non ionic surfactants   :     <15%
Specialty phosphate     :    < 5%