World has gone local. Companies need to focus on localized solution with the world class expertise, in order to support the customers with delight. SATOL has been since start, working on these lines. We have very focused R&D team which has got immense International experience in terms of project handling and diligent. Marketing team which has built itself in mid of severe competition. This has allowed us to implement new technologies, fresh solutions from across the Globe to our customers.
SATOL has been a leader in understanding localized needs of our customer, which has imparted us with a panoramic view of present and upcoming customer requirements and their world class solutions.
We have our Sales team positioned at the field, literally breathing through their day to day operations and our R&D team works with the customer to implement the best available solutions.  Trust is the most important component in our Business Philosophy. We regularly work to enhance the trust factor between our employees, Customers and other beneficiary.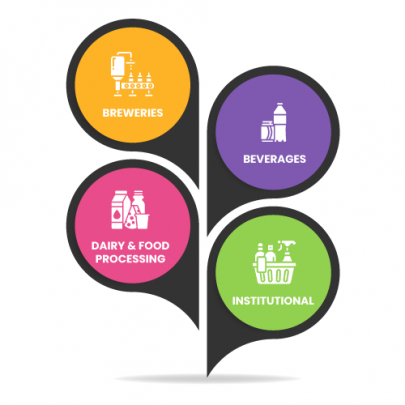 We operate in two major segments, i.e Industrial and Institutional. In Industrial segment we cater to Breweries, Beverage, Dairy and Food Processing  Industries, whereas we cater to general and specialized housekeeping needs through our Institutional segment.
In Need of a Specialty Cleaner?
The Wait is Over.