SATOL S1 – Bathroom Cleaner Cum Sanitizer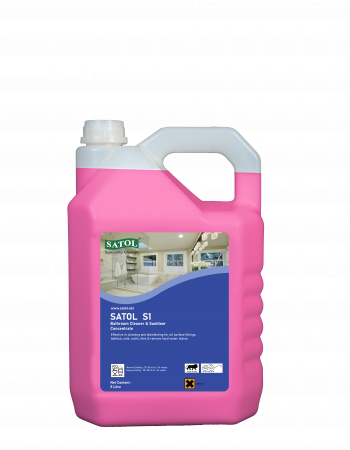 SATOL S1 – Bathroom Cleaner Cum Sanitizer
Bathroom CLEANER is a concentrated liquid detergent specially Developed for daily washroom cleaning needs in Hotels, Hospitals, Industrial Premises etc. It is suitable for cleaning of all the surfaces In washrooms, restrooms, shower rooms, urinals and toilet bowls etc.
Appearance        : Liquid
Colour                   : Red
Specific Gravity   : 1±0.2g/cm3
pH Value                :3.0±5(in1%solution
                                 :1.5±0.5(in100%solution)
Normal Soiling : 1020mlin1 litre of water
Heavy Soiling   : 2030mlin1litre of water
Spray or apply the surface with recommended dilution of cleaning solution. Then clean the surface with brush or scrub and rinse with adequate amount of water.
Recommended for daily cleaning applications as routine maintenance program. Highly effective in the penetration of deposits such as uric acid, soap scum, organic matter, water deposits on hard and non-porous washable surfaces. Suitable on the most of the surfaces like ceramic, plastic, porcelain, beerglass, SS etc.
Citric Acid  :  < 5%5
EDTA            :  < 5%
Nitric Acid   :  > 10%