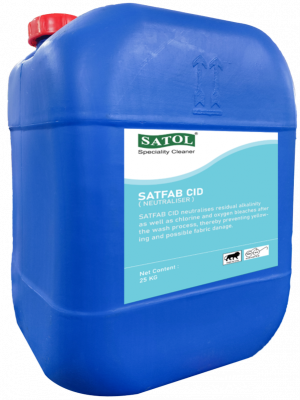 SATFAB CID is a laundry sour specially formulated for use in commercial and on-premise laundries. This product should be applied in the last rinse to neutralise residual alkali and to reduce of active chlorine.
Appearance        :  liquid
Colour                   :  Light Yellow
Specific Gravity  :  1.29 g/cm3
pH                          :  5.90 (in 1% Solution)
                                  4.84 (in 100% Solution)





Dose into the final rinse (sour bath step) of the wash process to Neutralise residual alkali and ensure that correct pH of washed Goods (6.06.5) is achieved. For some other classic actions, other pH guidelines should be followed. In addition check if the drain water is free of residual chlorine.
SATFAB CID is an alkali and chlorine 'neutralizer', based on bisulphites. These substances are mildly acidic and are applied to neutralize alkali present in rinse water and on fabric.
Accidental overdosing of SATFAB CID will not lead to a too low pH, and consequently the risk off a fabric damage is minimal. An organic acids-based neutralizer should only be used in those cases where no chlorine bleach has been applied.
SATFAB CID can be used for all types off fabric, except for clean room garments.
Sodium Metabisulphite   :   ≥ 35%