SAT TAB - Sanitizing Tablets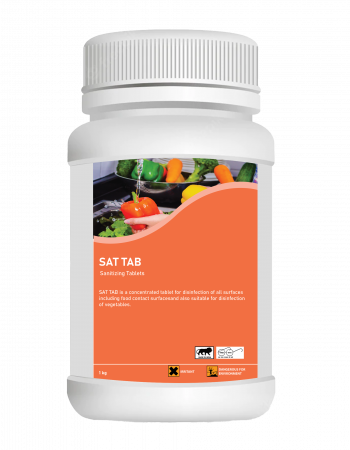 SAT TAB - Sanitizing Tablets
SAT TAB is a concentrated tablet for disinfection of all surfaces including food contact surfacesand also suitable for disinfection of vegetables.
Appearance             :   White, Flat Cylindrical Tablets.
Available chlorine   :  58.0 – 62.0 % w /w
PH                                :  5.0 – 7.0 (1% solution )
Moisture                     :   7 max % w /w
Water insoluble        :  0.2 max % w/w
Composition             :  Sodium Dichloroisocyanurate
(NaDCC)
SAT TAB contains a chlorine release agent which makes it also very effective for disinfecting salads, tomatoes, vegetables etc.
Chlorine provides a strong residual in the distribution system.
Chlorine can be easily converted to chloramines that also provide a strong residual and do not produce by-products.
Chlorine is a relatively inexpensive disinfecting agent.
Chlorine is effective at low concentrations.