HAND SANITIZER - Gel for Hand Sanitization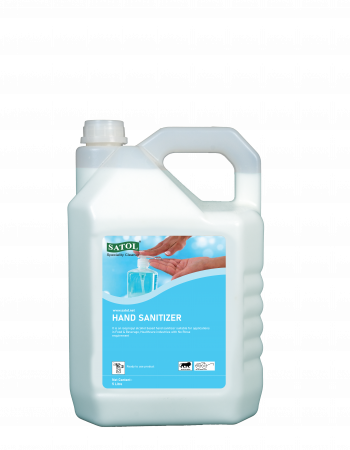 HAND SANITIZER - Gel for Hand Sanitization
It is an isopropyl alcohol based hand sanitizer suitable for applications in Food & Beverage, Healthcare industries with No Rinse requirement.
Form                          :  Gel
Appearance            :  Colorless
Odour                        :  Alcoholic Odour      
Specific Gravity       :  0.86‐0.90 g/cm3
Viscosity                    :  544 mPas at 250C
PH                                :  7.5‐8.0 (Neat) 
Apply 3-5 ml to clean dry hands and massage thoroughly all over hand skin.
Within 30 seconds skin will be dry as alcohol evaporates.
Store in a cool, dry place away from direct sunlight.
Combustible material should not be stored with this material.
Waterless fast and effective hand sanitizer with antimicrobial action.
Highly effective against skin microorganisms such as bacteria, viruses etc.
Combination of IPA, emollients and moisturizers for skin protection.
Isopropyl Alcohol        :        70%