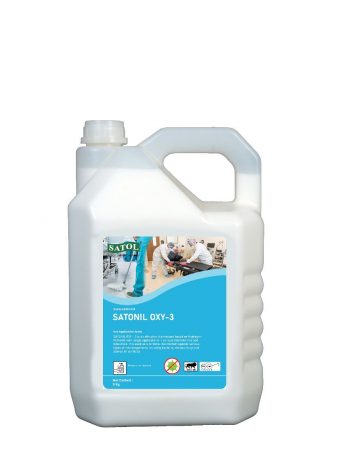 SATONIL OXY – 3 is an effective disinfectant based on Hydrogen Peroxide with usage applications in various Institutionals and Industries. It is used as a terminal disinfectant against various types of microorganisms including bacteria, viruses, fungi and spores on surfaces.
Appearance         : Transparent
Colour                    :  Colorless
Odour                     : Pleasant
Specific Gravity   : 1.0±0.05 g/cm3
pH value                : 3 to 5 in Concentrate
Solubility                :  100% water Soluble
Ready to use chemical.
Do not dilute. Spray directly over surface & wipe it with a clean cloth or single-use paper towel.
Better keeping chemical on surface for 5 minutes for effective results.
In case of heavily soiled surfaces, it will be better to preclean the surface before applying ready to use chemical.
Institutional Space (Schools, Offices, Public, Retail)
HORECA Segment (Hotel, Restaurant, Café)
Food, Dairy & Beverage Industries
Manufacturing Industries & Transport Sector
Hydrogen Peroxide    :    3%