SATOL SD9 - Grill Cleaner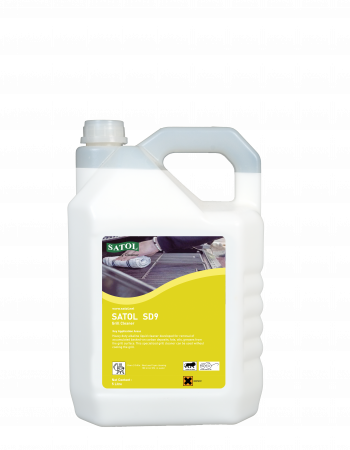 SATOL SD9 - Grill Cleaner
GRILL CLEANER is a heavy duty alkaline liquid cleaner developed for removal of accumulated bakedon carbon deposits, fats, oils, greases from the grill surface. This specialized grill cleaner can be used without cooling the grill. It can be used at 5% dilution or as Ready to Use depending upon.
Appearance        :   Liquid
Colour                   :   Colourless
Specific Gravity  :    1.25 ± 0.1 g/cm3
PH                           :    12.5 ± 0.5 (in 1% solution)
                                     13.5 ± 0.5 (in 100% solution) 
Scrape the grill surface to remove the soiling, after turning it off.
Turn the grill on and adjust the temperature to 65-80C.
Spread the GRILL CLEANER liquid on the grill surface (5% dilution or Ready to Use concentration) and let it there for few minutes.
Then gently scrub / wipe the entire surface with pad until all grill surface is clean.
Rinse the surface thoroughly with water and wipe it to have dry surface.
Heavy duty grill cleaner recommended for daily cleaning applications in
food service areas.
Cost effective cleaning operation.
Effective removal of accumulated baked-on carbon and grease. Fully compatible with commonly found material stainless steel in kitchen.
Sodium Hydroxide    :   >25%
Sodium Gluconate   :  > 5%
Anionic surfactants  :  > 5%
Triethanolamine        :  > 5%