SATOL S7 – Multi Purpose Cleaner Concentrate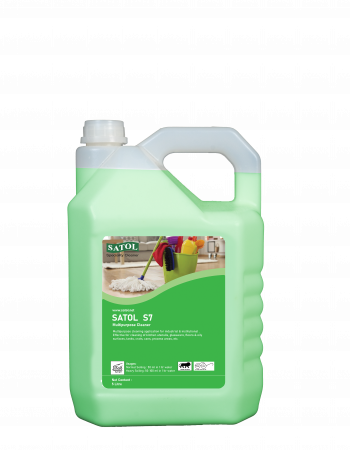 SATOL S7 – Multi Purpose Cleaner Concentrate
SATOL Multipurpose Cleaner Concentrate is effective for cleaning of all kind of floors and hard surface, glassware, Appliances, Floors and oily surfaces.
Form                     :  Liquid
Appearance        :  Light Green / Brown
Odour                    :  Fresh Lemon / Neutral
Specific Gravity   : 1.1±0.1 g/cm3
pH value                : 7.5 to 9.0 (concentrate)
Solubility                : 100% water soluble
Pack Size                :  5 ltr / 1 liter
Normal usage : 10  ml in 1 Litre of water.
Heavy usage: 20‐40  ml in 1 litre of water.
Store in a cool, dry place away from direct sunlight.
In case of eye contact, rinse immediately with plenty of water and seek medical advice.
Effective in: Kitchen Cleaning , Glassware cleaning ,Home appliances , oily surface cleaning.
Anionic surfactants     : 15-30%
Non ionic surfactants  : < 5%
EDTA                                 :    < 5%