SATOL S6 – Toilet Bowl Cleaner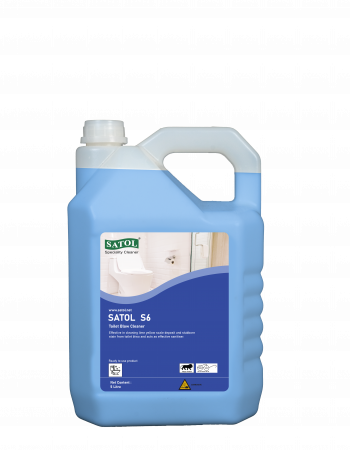 SATOL S6 – Toilet Bowl Cleaner
SATOL Toilet Cleaner is specially formulated to remove yellow lime-scale deposits and stubborn stains. It leaves toilet bowls and urinals sparkling clean. It has appropriate viscosity for excellent adhesion to vertical/ sloped surface.
Appearance        :   Thick Liquid
Color                      :  Blue
Specific Gravity   :  1.0 ±0.01 g/cm3
pH Value               :  1.5±0.5 (in 100% solution)
Viscosity                :  277 m pass
Pack Size               :  5ltr / 1 ltr & 500 ml 
SATOL S6 Toilet Cleaner is Ready-To-Use product.
Flush the toilet. Spread Toilet Cleaner from squeegee bottle under the rim, around the bowl onto water/ ush paths and around water outlets. Leave to activate for a few minutes. Scrub the inside of the bowl with brush to remove difficult stains. Then fush to rinse the toilet/ urinal.
Regular use prevents lime scale build up.
Ideal viscosity for extended contact time.
Squeegee bottle with directional spout, enables fast and easy application.
Ready to use product with instant results.
Ecologically safe.
Hydrochloric Acid   :  < 10% 7647 – 01 – 0
Amine Ethoxylate    :  < 5% 25307 – 17 – 9