SATOL S3 - Glass Cleaner Concentrate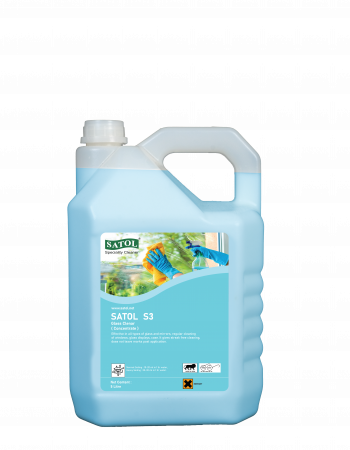 SATOL S3 - Glass Cleaner Concentrate
GLASS CLEANER is concentrated glass cleaner liquid for use on many surfaces including glass windows, mirrors, windshields, showcases, glass displays and any other see thru surfaces. This concentrate product is a perfect blend of Anionic Surfactants and Isopropyl Alcohol, resulting in excellent shining.
Form                     :  Liquid
Appearance        :  Light Blue
Specific Gravity  : 0.99 ± 0.01 g/cm3
                                 7 ± 0.5 (in 1% solution)
 pH                          : 7.5 ± 0.5 (in 100% solution)
Dilute at 0.5-1.0% concentration and spray onto the surface to be cleaned or else apply through a clean cloth or sponge.
For vertical surfaces start cleaning at the bottom and wipe in a side-to-side motion up to the top. Wipe the surface with good cloth to make it dry.
Recommended for daily and periodic cleaning applications of glass surfaces.
Cleans to sparkle and streak free in one action. Doesn't leave marks post application.
Rapidly removes oily soils and finger marks.
Dilute and spray, wipe on action.
Pleasant, fresh fragrance.
Isopropyl Alcohol      :  15%
Anionic surfactants  :  1.5-2.5%