SATOL 103 – Concentrated Carpet Shampoo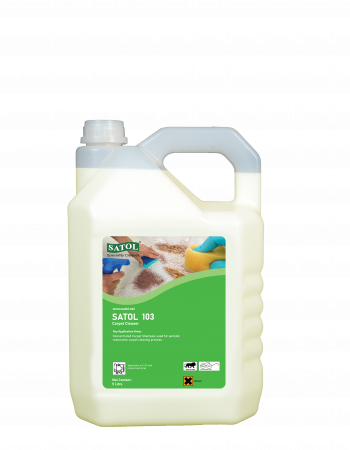 SATOL 103 – Concentrated Carpet Shampoo
It is effective concentrated liquid carpet Detergent with perfect combination of foaming surfactants which is ideal for all types of carpet cleaning.
Appearance        :  Liquid
Colour                   :  Light Yellow
Odour                    :  Odourless
Specific Gravity   :  1.01 ± 0.5  g/cm3
pH value                : 10.53 ± 0.5 (in 1% solution)
                                   11.65±0.5 in Concentrate
Solubility                : 100% water Soluble
Recommended dilution is 2‐5%, depending upon carpet soiling & with the help of foam generator
Store in a cool, dry place away from direct sunlight.
It surrounds the carpet fibers with an invisible barrier to protect the carpet from soil and spills.
The barrier allows for easier removal of dry soil, which extends the time between restorative carpet cleanings.
Non Ionic Surfactants 5-10% EDTA 5% Cationic Surfactants 5%